ABOUT STEVEN LAVEN
Steven Laven, cellist, a South Bend, Indiana native, appears with the Pro Arte Chamber Orchestra (Principal Cellist), the Rhode Island Philharmonic, the Handel & Haydn Society, Boston Symphony and Boston Pops Esplanade Orchestra. He is also an adjunct instructor of cello and chamber music at Rhode Island College, performing in the faculty Proteus String Quartet. Previously, Mr. Laven has held titled positions in the Houston Ballet, Houston Grand Opera and Omaha Symphony Orchestras. He has earned cello performance degrees from the Eastman and Manhattan Schools of Music.
Mr. Laven enjoys composing and arranging music for string players of all levels. He most recently won the 2017 Massachusetts ASTA Masters Composition Competition for his solo cello piece, Ann's Allemande. His piece "Snake River Stomp" won the 2008 Texas Orchestra Director's Association composition competition, and his cello quartet version of "A Barnraising" was performed on NPR's "From the Top." Ensembles from the Philadelphia, Pittsburgh, Houston, Seattle, Colorado and Omaha Symphony Orchestras have performed Mr. Laven's compositions, as well as youth orchestras and school string programs across the country. Two of his string orchestra pieces have been published by Wingert-Jones.
He is an avid chamber musician, and has formed various ensembles throughout his career to explore and create new repertoire. Trio-Nordica, with Jodi Hagen, violin Susan Hagen, bass and Steve on cello has played in churches, resorts and schools across New England. Steve's arrangements and compositions are a big portion of their repertoire. Their website is here: http://trio-nordica.com/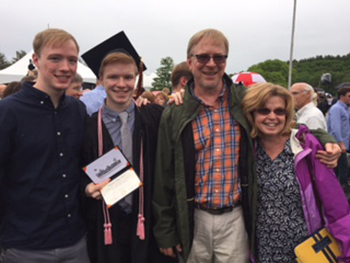 As an educator, Steven is an active member of the American String Teacher's Association, (ASTA). In 2016, he was awarded the MA ASTA Studio Music Teacher of the year. As a member of the Massachusetts ASTA Certificate Advancement Program steering committee, he helped establish this program here, which provides students with an incremental means of achieving playing goals, motivating them to persevere and excel in their instrumental studies. He has also been involved regularly with outreach programs via the Boston Symphony education department and is a frequent chamber music and cello section coach for the Boston Youth Symphony.
Now living in the Boston area where Cindy plays piccolo with the Boston Symphony, Steve is enjoying his two boys, and writing and recording his music more frequently. He performs regularly with local orchestras such as the Boston Pops, the Rhode Island Philharmonic and the Pro Arte Chamber Orchestra of Boston and teaches cello privately. He's an active member of the American String Teacher's Association and the American Society of Composers and Publishers (ASCAP).
Thanks for visiting the site and drop a line if you have any questions about the music or recordings.
---
PRIVATE INSTRUCTION
I've been teaching all levels of cellists privately for over thirty years and have come to enjoy the first few years of a child's cello adventure the best. I enjoy the challenge of getting them oriented properly on the cello and keeping them interested. Being a father of two boys, I'm aware of all of the competing activities and homework, yet I want each student to fulfill their musical potential and have fun! So I count on the parents to stay involved and sit in on their kid's practicing a couple of times a week. There is no need to sit in at each lesson, but you are welcome to if you want, especially at first. I'll want the student to practice 15 - 30 minutes six days a week at first, depending on their lesson length, and more as they advance.
I pick exercises and repertoire that's interesting and challenging to them,including my own duet books, always trying to discover what works best for each student. And I'm always looking for new material. I'm a member of the American String Teacher's Association and keep up to date on new materials and teaching techniques. I strongly encourage my students to participate in the ASTACAP progressive exams in the fall or spring. More information can be found here: http://maasta.org/index.html.
I believe having a performance outlet for the students is important and have an annual spring recital as well as other performance opportunities in various venues, such as the Traditions of Wayland senior living center at Christmastime. Also, I plan to have monthly cello group classes at my home to give the kids a chance to play easy cello ensembles and play their pieces for each other.
My rates are $40/half hour, $60/45 minutes and $80/hour.
---